I hosted a Holiday cookie swap last year and it was a great success! Lots of fun and lots of cookies! I'm already planning for this year's party. I've picked a date and have emailed friends for current mailing addresses. Now I need to pick some invitations. Knowing that my blogging friends have great taste, I'm asking for your help!
Here are some of the invites I'm considering...
Choice #1: http://www.polkadotdesign.com/Polka-Dot-Design-Digital/PDDD-NP58HC9007/
Choice #2: http://www.tinyprints.com/product/8080/flat_holiday_party_invitations_icing.html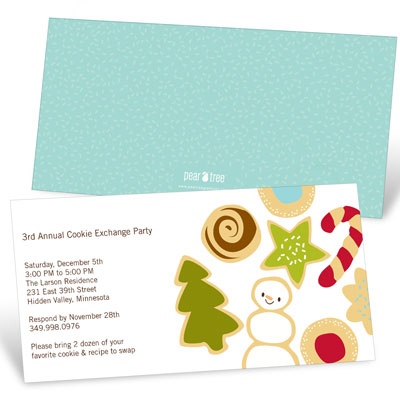 Choice #3: http://www.peartreegreetings.com/Holiday-Cards/Christmas-Party-Invitations/2775-5956FC-Sweet-Treats--Holiday-Party-Invitation.pro
Let me know what you think! Also, if you have any other recommendations, please let me know!