I did take pictures of the rest of my OOTDs for the week. However they all turned out bad!! Seriously--blurry and/or camel toe spotting. ICK. I'm not quite ready for all the bad and ugly to be posted on this little blog.
In more positive news, I purchased a new pair of jeans and black slacks with my Groupon at Gap! It was a $50 value, purchased for $25. I only had to pay about $20 more when I cashed out, so I paid $45 really for both pants? That sounds about right! That plus Gap's vanity sizing--fun times :)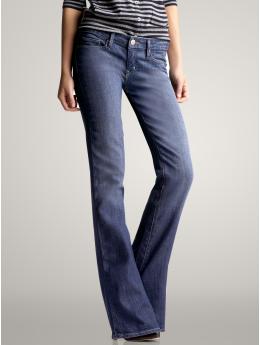 I really intended to purchase a darker wash, but I liked these too. Curvy Boot Cut - Sale price $35
Perfect Trouser Pants were almost perfect. I got the ankle length which is still a touch too long, even in my work heels. So once I get them hemmed, they will be perfect! Sale Price $35
J and I also took advantage of the LEC Stock Room Sale and the LE 25% off Labor Day sale. Wish I could post pictures, but Lands End's website is not cooperating. Here is what we got:
For moi
Modern Premium Stretch Denim Straight Leg 5 pocket Jeans
- I've never tried LE's Jeans before. I picked the darkest pair. I really wanted a straight leg pair for Casual Friday's at work. Hoping these turn out.
For J
Long Sleeved Vintage Fleece
- True Navy
Heritage Crewneck T
in Lemon
Long Sleeve Henley
- True Navy
J also ordered some Fall items from J Crew and LL Bean Signature, which will make their appearance once the weather cools down. Which at this rate is November!